When thinking about keeping your computer secure from threats like Viruses, Malware, or Ransomware, the first thing you might think of is a good anti-virus software. While anti-virus is important, one of the most important steps in protecting your Windows 10 PC is keeping Windows and and the software on your PC patched and up-to-date. These updates help protect your computer from falling victim to exploits hackers can use to access your system.
Why It is Important to Update Windows 10
Patches, updates, and hot-fixes are essential for keeping your computer and network secure. The threat of hackers obtaining your personal information has been ever more apparent lately and you need to be vigilant. Most Microsoft updates or hot-fixes are centered around security and/or threat vulnerability. A hacker only has to penetrate your computer's defenses once, and they can get any information they want.
Malware can enter a system by an exploit, whether by a user or program. The exploit can then be used to gain access to your computer or information. Patches, updates, and hot-fixes are sent out to fix those exploits or make them more challenging to access. Not all of the patches are to fix exploits however. Patches can be released that add new features, increase stability, or make the software faster for example.
Some computer manufacturers provide programs to help assist users with updates with minimal intervention. Some good examples of programs that assist with updating your system and checking overall computer health are Dell SupportAssist, HP Assistant, and Lenovo System Update. These are just a few examples of the many manufacturer's programs that can assist you with updates.
How to Update Windows 10

To manually update Windows 10, you can follow the instructions below:
Go to search on the taskbar and type in check for updates, then click on the first result.
On the next screen, click on Check for Updates.
When it is done scanning, it will automatically start installing Windows updates. Below the check for updates button, you might see View Optional Updates. Optional updates is where you can get feature updates, monthly non-security updates (also called preview updates), and driver updates.
Alternatively, you can click on Start  > Settings > Update & Security  > Windows Update > Check for updates.
How to Uninstall a Windows 10 Update
With Windows Update, you don't always have control over which updates are installed. Sometimes bad updates are released that can cause your computer or a software to act unexpectedly. The updates could cause programs to crash, lose some functionality, or cause the dreaded Blue Screen of Death.
In a business or production environment, we recommended testing the updates on a small number of computers before fully deploying them. If your computer is having issues after a recent update, you can try uninstalling it as well.
Thankfully, it's pretty easy to view and uninstall recent Windows 10 updates. To view or uninstall a recent update, follow these steps:
Go to search on the taskbar and type in check for updates, then click on the first result.
On the next screen, click on View Update History.
Next, click on Uninstall Updates.
From here you can view the name of the update, the program and version, name of the publisher, and the date the update was installed.
Click on the update you wish to remove and click on Uninstall.
Windows will begin uninstalling the update and you may be prompted to restart your computer once it finishes.
How to Update Drivers in Windows 10
Updating drivers has become a lot easier with Windows 10, especially compared to previous operating systems from Microsoft. Drivers can now be installed automatically through Windows Update when you check for updates. If you would like to manually install a driver though, you can follow these steps.
Manually Update Device Driver
In the search box on the taskbar, enter device manager, then select Device Manager.
Select a category to see names of devices, then right-click (or press and hold) the one you'd like to update.
Select Search automatically for updated driver software.
Select Update Driver.
If Windows doesn't find a new driver, you can try looking for one on the device manufacturer's website and follow their instructions.
If you are having an issue with a connected device and would like to try reinstalling the driver, you can also follow the steps below.
Manually Reinstall a Device Driver
In the search box on the taskbar, enter device manager, then select Device Manager.
Right-click (or press and hold) the name of the device, and select Uninstall.
Restart your PC.
Windows will attempt to reinstall the driver.
Keeping Your Business's Computers Updated
Manually updating your computers can take a lot of time and effort. Pennyrile Technologies can help automate this process and ensure your computers are always kept updated with the latest patches and fixes. We know updates can happen at inconvenient moments. You can't always control when your computer decides to update itself and sometimes it happens when you're in the middle of something. Right when you need your computer most, it can be busy installing an update and you won't be able to use it.
With our IT Support Services, we proactively manage and maintain your technology environment so all your devices are always health and updated consistently and reliably. Save yourself time and effort so you can run your business not having to  worry about keeping your computers up-to-date.
Looking to start a new website or on the search for a new web hosting provider? You probably aren't alone! It's estimated there are 1.2 billion websites on the Internet as of January, 2021. Trying to search for the best web hosting provider will return hundreds of choices from the search engines and trying to determine what information is valuable or actually helpful can be daunting.
With that in mind, we've put together a list of five steps for choosing the best web hosting provider for your business or upcoming project. We hope this will make your search just a little bit easier!
Determine Your Needs
One of the first things we recommend doing is sitting down and writing a list of all your needs and a general plan for your website. Will your website only be a few pages and static (rarely updated) or will you be updating the site constantly and adding new content, or hosting lots of pictures and video?
If the website is small with only a few pages then you can usually choose a web hosting plan with a small amount of storage. Typically 5GB of storage or less works for most small to medium-sized web sites.
What about bandwidth? Unless you own an extremely high traffic site, then this probably won't factor into your decision. The average website uses less than 20GB of bandwidth a month so unless you are getting 20,000 + visits a day and have lots of content on your site, a smaller plan should be fine.
If you receiving that many visits a day, you should be able to log into your current host's control panel for a breakdown of your monthly traffic. Using that information will be helpful if moving to another host.
Defining A Budget For Web Hosting
You probably know the old saying, "you get what you pay for". Like many things, this is relevant to web hosting too. There are countless hosting companies out there with cheap hosting plans and minimal services.
Shared hosting plans will typically start around $4.99/mo from the budget providers and go up to $24.99/mo or more if you are needing large amounts of storage and bandwidth or looking at a premium hosting.
When signing up for services, also be careful to look at the fine print on renewals. Some providers may lure you in with a cheap price, but then increase your bill by 50% or more once the renewal comes!
Lastly, you may be able to save money on your hosting by paying in advance for a year or more. You may want to try month-to-month at first to see if you are happy with the service they provide though.
Support Needs for Web Hosting
What happens when you need support from your web host? Make sure the web hosting provider you choose has good support. Many of the cheapest web hosting plans have to skimp on the services somewhere and support is usually where it's happening.
Can you call the provider and speak with a support technician in a timely manner or do you have to wait on the phone for 30 minutes to an hour or more? Some providers may only offer email-based support or chat-based support as well.
What about resolution times to issues raised? If you have an issue, does it get resolved in 10-15 minutes or does it take days?
Some providers may even charge extra for "premium" support where that would be considered regular support by others.
Web Hosting Server Speeds
Finding a web host with fast servers is important when having an online presence. It's estimated the average user will only wait 3 seconds for a page to load before they leave a site, so choosing a host with good hardware can be very beneficial.
When looking at Shared Hosting Packages, note that your website will be hosted on a server alongside other websites. Some providers may use cheaper hardware or overload their servers with too many websites to save money.
Alternatively, you could look at VPS Hosting or Dedicated hosting which would grant you more dedicated resources, added security, and increased scalability.
Pricing is much higher than Shared Hosting however, with VPS Hosting usually running anywhere from $20 to $100 a month. Dedicated hosting is even more expensive and typically ranges in price from $80 to as much as $500 a month.
Extra Features to Look For
Another thing to look for are extra features the web hosting provider offers. While some providers may include these as default in their hosting plans, others may charge extra for them which can add up rather quickly.
Here are some of our favorite extra features to look for when searching for a web host provider.
Free SSL Certificates - This varies a lot across providers. Some include them for free while others may charge anywhere from $5/year to more than $100/yr. If you have a website, we highly recommend installing an SSL certificate for your site. It helps secure the site for your visitors and is also a ranking factor for appearing in Google search results.
Uptime Guarantee - What kind of uptime guarantee does the provider offer? An uptime guarantee of 99.9% allows for 8 hours, 45 minutes, and 56 seconds of downtime a year while a 99.99% uptime guarantee allows for only 52 minutes and 35 seconds of downtime a year.
30 Day Money-Back Guarantee - Does the provider backup their service with a 30 day money-back guarantee? If so, they are probably confident in their abilities and services they offer to their clients.
Free Domain - This isn't as common as some of the other features we look for, but it can add to additional savings. Domain renewal pricing varies wildly across registrars and hosts and usually depends on extension (.com, .net, etc.). The savings from a free domain can by anywhere from $5/yr to $20/yr or more.
Free Migrations - If you are currently with a provider and looking to switch, does the new web host provider offer free migrations, do they charge for it, or do you have to do it yourself? A free migration can save you money and time, especially if you aren't tech savvy!
Cell phones have become a necessity in these trying times. They are our main form of communication for work, contacting family, or watching videos. Many people often do not have an excellent connection to the cell network. It is a common problem even if you have a well-known carrier as your cell provider. The issue usually involves:
Not being close enough to a tower.
Being in a building that blocks a lot of the cell signal.
Having multiple towers around you that cause interference.
Suppose you live or work in an area where it is hard to get a good signal for your phone. You might go about your daily activities just dealing with this connection issue, including dropped calls or reduced voice quality. A cell phone booster is an excellent way of fixing these connection issues. They take the existing signal and boost it while transmitting the signal out in key places so your phone can have a better connection.
Before You Begin
Before getting a cell phone booster, consider some of the following questions:
Do I have no signal where I need my cell phone?
Do I often need my cell phone to complete tasks?
Do most of my cell phone interactions get interrupted because of signal loss?
Do I have a better signal outside than I do inside?
Is it possible that the building blocks the cell signal from reaching my phone?
Is the distance to the closest cell tower possibly what causes my signal loss?
Chances are, if you say yes to some or all of these questions, then you could benefit from a cell phone booster.
Before you start, you must have at least 1 bar of usable signal outside or on the roof of the building you are installing the booster on. What do we mean by usable? You need to be able to place a call and use data reliably. When running a speed test, you should have decent upload and download speeds. Cell boosters bring signals inside from the outdoors. If the signal outside your building is not usable, the booster will not help.
Choosing Your Indoor Cell Phone Booster Antenna
When you purchase a cell booster, you will need to decide which types of antennas you will need for both inside and outside the premises. The most common types of indoor antenna are dome (omni-directional) and panel (directional) antennas. The dome antenna will broadcast the signal in all directions, while the panel antenna will broadcast in only one direction.
Panel antennas will typically have a stronger signal because they broadcast in one direction. Because of their directionality they are better at penetrating internal walls and floors. They are typically mounted on walls and are good for spot locations.
Dome antennas will broadcast the signal 360 degrees and may cover a larger area, but with a weaker signal due to their omni-directional broadcast. They are typically mounted on ceilings, but if you have very high ceilings (20 feet or higher) the signal may be reduced.
Depending on the building and the area you are trying to increase your cell reception will determine which antenna you use. You may even wish to use a combination of the two.
Choosing Your Outdoor Cell Phone Booster Antenna
Much like the indoor antennas, you will need to choose an omni-directional antenna or directional antenna for your outdoor antenna. This antenna is responsible for receiving the signal outside the building and sending to your amplifier.
An omni-directional antenna will receive cellular signals in a 360-degree window. They are great for accessing nearby cell towers and if you need to boost the signal of multiple different cell phone carriers. The directional antenna will only receive cellular signals from the general direction it is pointed. Their advantage is boosting signals from far off cellular towers or when you are dealing with weaker signals.
Please note if you are using an omni-directional antenna, the antenna could become overburdened, especially within bustling urban areas. Because these antennas can pick up multiple cellular carriers, you may receive interference from multiple towers or have issues locking onto the signal of a specific tower causing dropped calls. A directional antenna is harder to set up, but they have an easier time locking onto a specific tower. On the down-side, they usually support 1 to 2 cellular providers and are limited by their angle of field due to their directional signal.
Beginning Your Cell Phone Booster Installation
After you have decided to purchase a cell phone booster, you will receive your booster, and then it is time for the install. The install will take some time and maybe a little more hands-on than you may like. You might decide to have someone install it for you. Then again, if you have the time and patience, you may want to install it yourself.
Let us begin with the inventory of your equipment. When you receive your booster, you will typically be given:
Cables
Antenna
Amplifier
Grounding Cable
Adapters
Transmitters
Installation Instructions
The instructions included with the equipment should have a list of all the items that are in your installation package. This would also be an excellent time to read over the instructions and verify all parts are included. Pay close attention to the instructions on where to place the outdoor antenna. The outdoor antenna will receive the signal and send it to the amplifier.
Before installing your booster, plan out where to place the inside antennas. Please pay close attention to how far apart they will be positioned and how much material is between them. If the antenna is too close, then there will be interference. There will not be as much coverage if they are too far apart either. If thick walls block the signal, the antenna range might not reach the surrounding rooms. This will also cause issues with coverage.
Once you plan the layout for your inside antennas, we can begin finding the best position for your outside antenna. The process will take some time. If you look at the instructions, you can discover how the process will unfold for your specific equipment. In this article, I will briefly describe the process.
Outdoor Cell Phone Booster Antenna Installation & Measuring Signal
When trying to find the best place to mount your outdoor antenna, you will need to measure the signal from your phone, an app included with the cell booster, or specialized equipment. Ideally you are looking for a location on your roof, wall, or even on the ground that has a clear line of sight to the transmitting cellular towers. Having the antenna mounted where it can easily be serviced is also beneficial.
Some of the metrics you will be looking at are SINR, RSRQ, and RSRP. The Signal to Interference and Noise Ratio or SINR measures the amount of interference and background noise for your current area. Reference Signal Received Power or RSRP is the power of the signal being received. Finally, Reference Signal Received Quality or RSRQ is the received signal's quality. As previously mentioned, many cell boosters now come with apps. This app should have the metrics you will use to position the outside antenna. If you do not have an app for this, it is advised to call the manufacturer's support line to help set the antenna.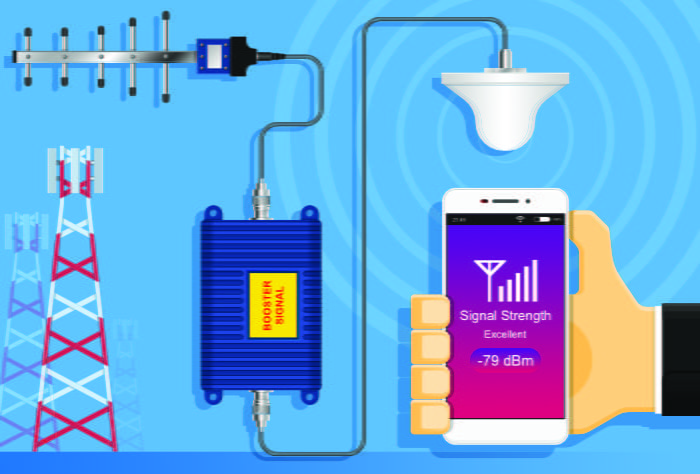 During the process of finding the best position for the outside antenna, you will have to temporarily mount the antenna in different locations and run your tests. This process is the most time-consuming part of the installation. It is best to record the positions and the statistics for each position and review them afterwards. Once you get statistics from 6 to 10 positions, you will have to look at your test results and pick the best position to mount the antenna permanently.
The table below shows what you are looking for in the metrics you recorded:
Connectivity               RSRP (dBm)               RSRQ (dB)                 SINR (dB)
Excellent                       >= -80                       >= -10                         >= -20
Good                        -80 to -90                  -10 to -15                   10 to 20
Medium                   -90 to -100                 -15 to -20                      0 to 13
Weak                         <= -100                        < -20                            < 0
Indoor Antenna & Amplifier Installation
After you have finished mounting the outside antenna, it is time to complete the installation by mounting the amplifier, mounting the indoor antennas, and run the cabling. When running the antenna's cable, try to keep the cables separated. If they are running too close to each other, it could cause interference in the lines. When you have extra cable, roll up the excess in a large service loop. Ensure when you are running the cable, check for the grounding wire. It should be connected somewhere around the outside antenna. This grounding line is for lightning strikes. If it is not correctly running to ground, a lightning strike could potentially go through the cables and hit your amplifier and indoor antennas.
Lastly, it is time to test your system. If the cell booster was installed correctly, you should see the bars on your cell phone increase. Next, make sure your cell phone is not connected to your wireless network. Complete a speed test from your cell phone to verify it is working correctly. Make some phone calls from your cell phone to test and see if it will cut in and out. Move around while using the phone to help verify your coverage area. When you are confident that the installation is complete after testing the system, you can begin enjoying your new cell booster!
Need Assistance with Your Cell Phone Booster Installation?
If you need assistance installing your cell booster or would like a quote for installation, please contact our network and cabling services team for a free quote. Our team will perform a professional site survey of your existing infrastructure and signal and put together a quote based on your coverage needs and budget. Our team will then install all the antennas, cabling, and equipment and perform tests to ensure the signal has improved.
On June 3rd I began a series of quick tips to speeding up your computer.  In that article, we covered Computer Settings, Startup Programs, Disk Cleanup, and Adware & Bloatware removal.  This time we are going to continue with a few more tips on increasing the performance of your computer.  For those who did not read the first article but would like to, check out 4 Quick Tips To Speed Up Your PC.
Frag Out
Lets talk about organization.  Your hard drive must organize the data that is put on it.  With more data comes more responsibility.  So, to help your hard drive to stay organize it is recommended that you Defragment your hard drive regularly.  Usually this is done automatically by your operating system but sometimes it can be missed.
(Note:  If you have a SSD then it is not recommended to Defragment your Drive because it could shorten its' life.)
To Defragment your hard drive:
1:  Go to the Start menu.
2:  Scroll down to Windows Administrative Tools and click.
3:  Select and Click Defragment and Optimize Drives.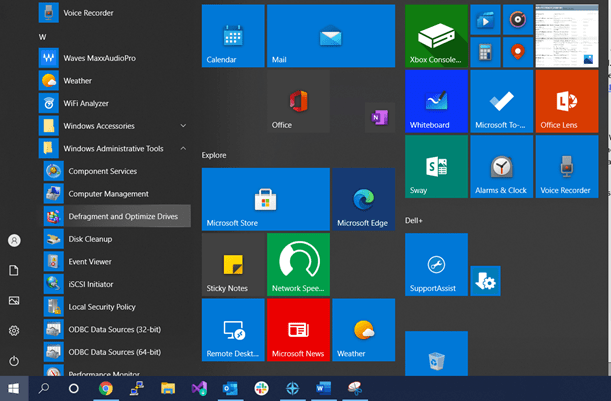 4:  Select the drive you would like to Defragment and Click Optimize.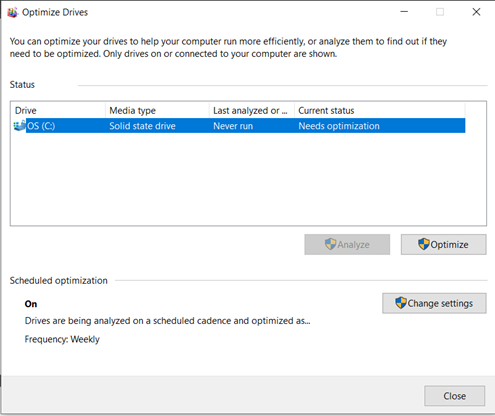 5:  Wait for Defrag to complete its work.
We Need More Power
After Defragging your computer might still be slow.  This is a good opportunity to change your power settings.  There are 3 types of default power settings:  Power Saver, Balanced, and High-Performance.  Having your computer set to Power Saver saves on power usage but at the cost of performance, which can slow down your computer.  The Balanced setting is the in between for the other two settings.  Lastly, the High-Performance setting uses more power to get the best performance.  The later of the settings will eat up the power of your battery provided you are using a Laptop.  To change your Power settings, do the following:
1:  Go to the Start Menu
2:  Click on Windows System and Select Control Panel.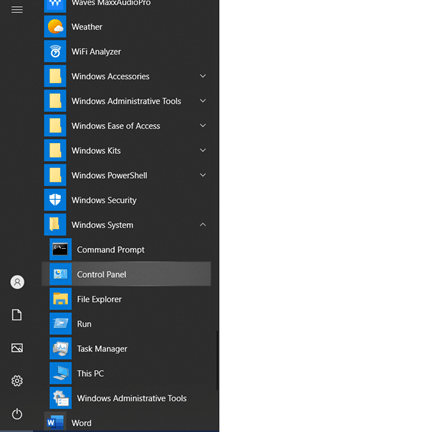 3:  In Control Panel Click on System and Security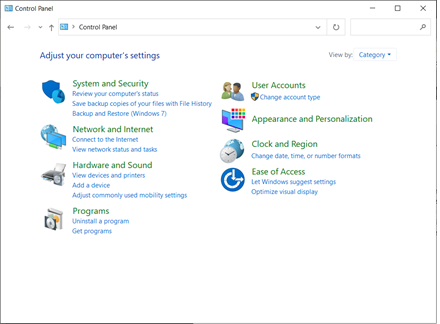 4:  Click on Power Options.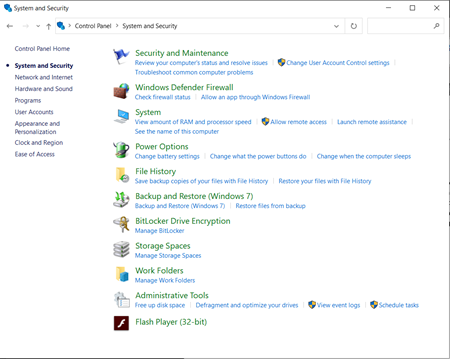 5:  Select the High-Performance.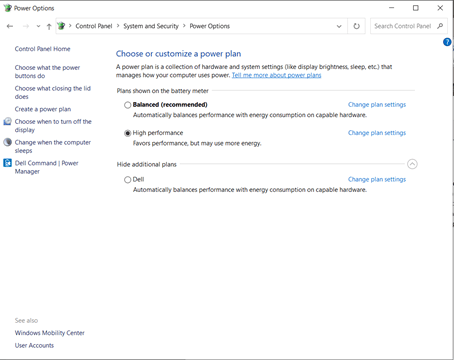 (Note:  If you have Control Panel set to Large or Small Icons then click on Power Settings.)
Where is that File
Now that you have set your power settings to your liking, lets move on to Indexing.  Indexing allows you to use the Windows 10 search function more efficiently.  It does this by indexing the files on your drives.  The Indexing Service uses CPU and RAM to search for a file that you want to find.  This can slow down a computer that is already taxed on CPU and RAM usage.  To shut down the Windows Indexing service see the below instructions.
1:  Go to the Start Menu and scroll to Windows Administrative tools and click, then select and click Services.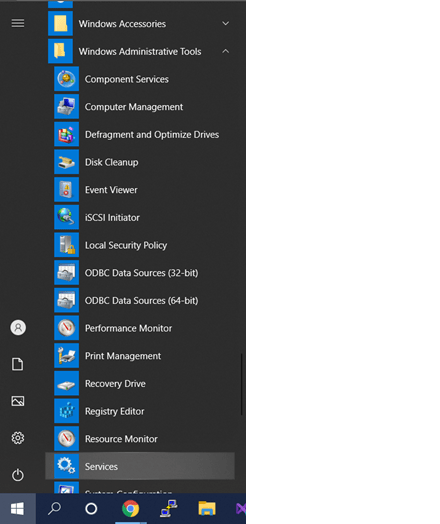 2:  When the Services Window opens, scroll down to "Windows Search" and Right click on it and select Properties.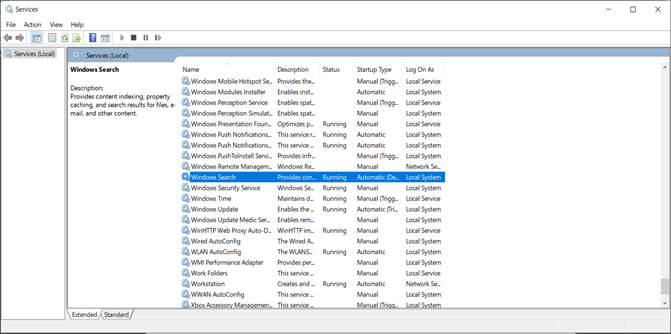 3:  In the Properties window click on "Stop".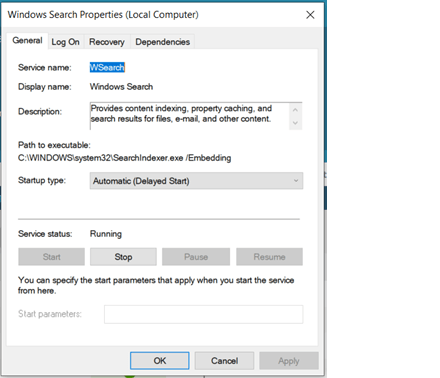 The Windows Search service is the active Indexing service.  Stopping this service will free up resources at the cost of being able to search quickly for your files or apps.
(NOTE:  While performing actions within Services, you must have administrator privileges to make changes)
Paging File
The next item we will look at is the system paging file.  This is often called Virtual Memory.  This is space on your drive, usually on the C: Drive, where data can be stored that was not able to fit on the RAM of your machine.  Usually, windows automatically manages this for you but sometimes you do have to take matters into your own hands.  If you do not feel comfortable with changing the paging file, I recommend reading more about it and making your best judgement.  Below is how you can change the paging file:
1:  Click on File Explorer, which is the folder icon, on your task bar at the bottom of the screen.

2:  While in File Explorer, Right click on "This PC" and select "Properties".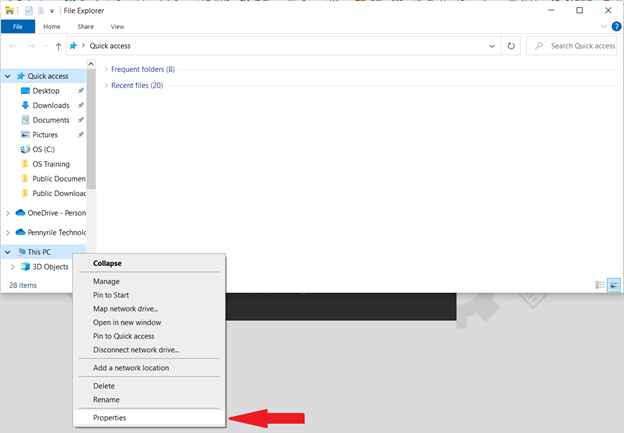 3:  In the System Window, Click on Advanced Settings.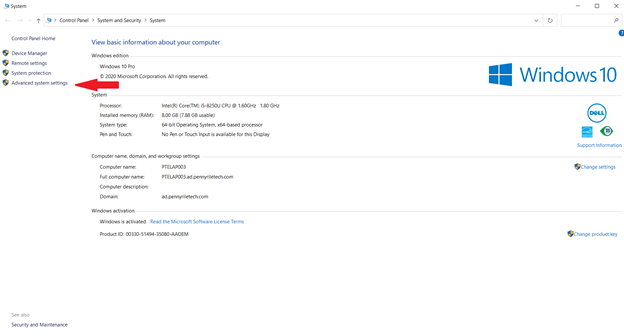 4:  In System Properties, Click Settings under Visual Performance.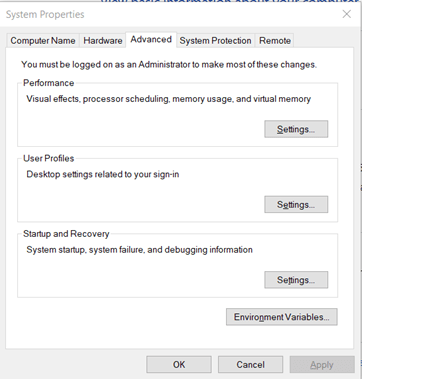 5:  At the top of the Performance Options window, click the Advanced Tab and click Change under Virtual Memory.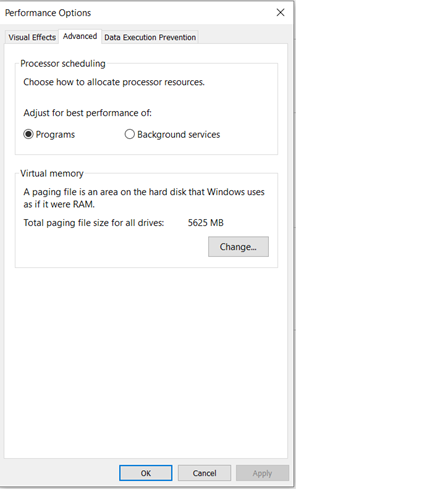 6:  In this window, you will need to know how much RAM you have in your computer.  Below is the recommended setting for a computer with 8GB of RAM.  To figure out how much Virtual Memory you will need, Multiply the amount of Ram you have by 1024.  Then Multiply that with 1.5 and 4.  They will both be the minimum and Maximum amount of Virtual Memory you will want.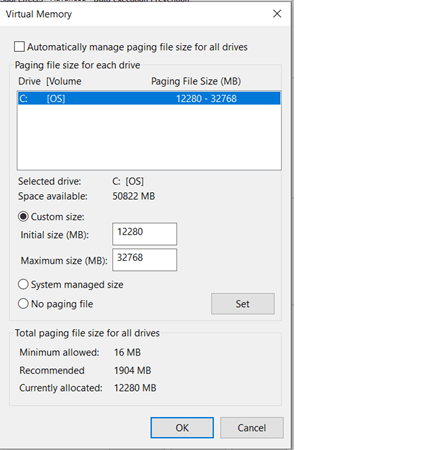 Here is how I figured the Initial Size and Maximum Size.
I have 8GB of RAM
1GB of RAM is 1024
You would want at least 1.5 times the amount of Virtual Memory for your Initial Memory and 4 times that for your Maximum.
8GB Multiplied by 1024 would be 8194
8194 Multiplied by 1.5 would be 12280
8194 Multiplied by 4 would be 32768
I hope this Article helps to speed up your computer.  Please keep a look out for future articles where I will telling you how to set up Ready Boost and a couple of other ways you can potentially speed up your computer.
Feeling intimidated by these steps? We also perform PC Maintenance & Repair in our office. Most repairs are completed within 1-3 days!
For most people regular maintenance on their PC is far from their mind. So we've put together 4 quick tips that can help speed up your Windows 10 PC. We hope to followup with some additional tips in the future including some more advanced guides.
Change Computer Settings to Best Performance
You can change the visual effects of your computer so it doesn't have to spend as much resources on rendering and animating windows. To do this:
1. Go to File Explorer – Click the folder on your task bar at the bottom of your desktop. You can also type in "File Explorer" in the search menu.

2. Right click on This PC on the left side of the window.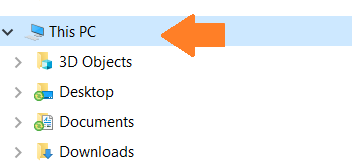 3. On the upper left side of the screen, left click on Advanced System Settings.

4. In the popup window check to make sure the Advanced Tab is selected and click the Settings button under Performance.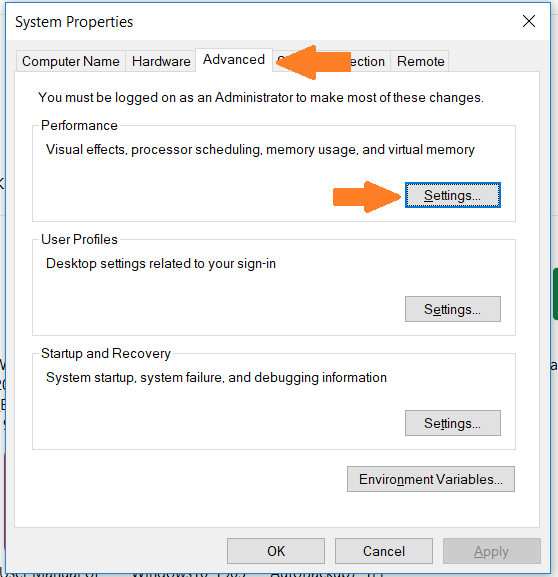 5. Choose between the Options listed under the Visual Effects Tab.  You can Adjust for best appearance, Adjust for best performance, or Customize the changes yourself by selecting what you want to disable in the box below the Custom bullet. If you have an older or slower PC, we recommend choosing Adjust for best performance.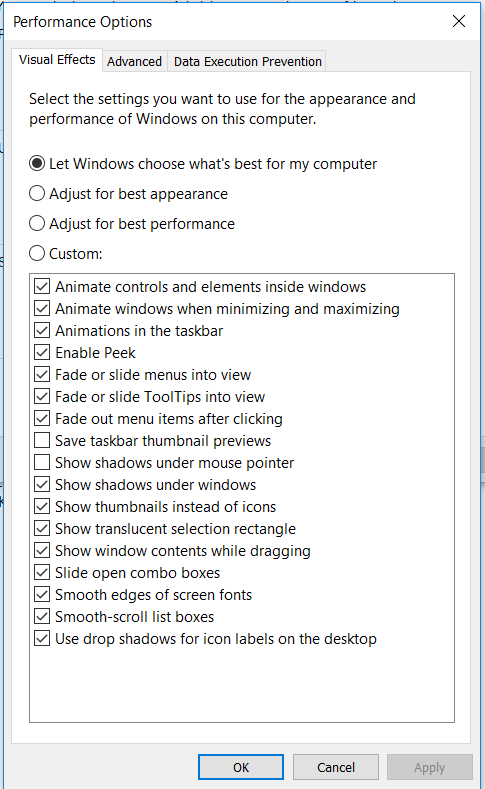 Disable Startup Programs
You might have issues when you first turn on your computer.  You sit and type in your login information and it takes forever for you to be able to do anything on your desktop. You might have more than a couple of programs that are starting up that you don't necessarily need right away. The more programs that run at startup, the longer it will take for your PC to fully boot. To check this:
1. On your keyboard, press the Ctrl+Alt+Del keys – this will bring up a menu.
2. Click on Task Manager.
3. At the top of the window you will see Tabs.  Click on the one that says Startup.

4. After you have clicked on startup, you will see a list of programs that begin to run when your computer starts.  These can be disabled by selecting them and clicking the Disable button on the bottom of the screen. Try disabling items that have Medium to High impact.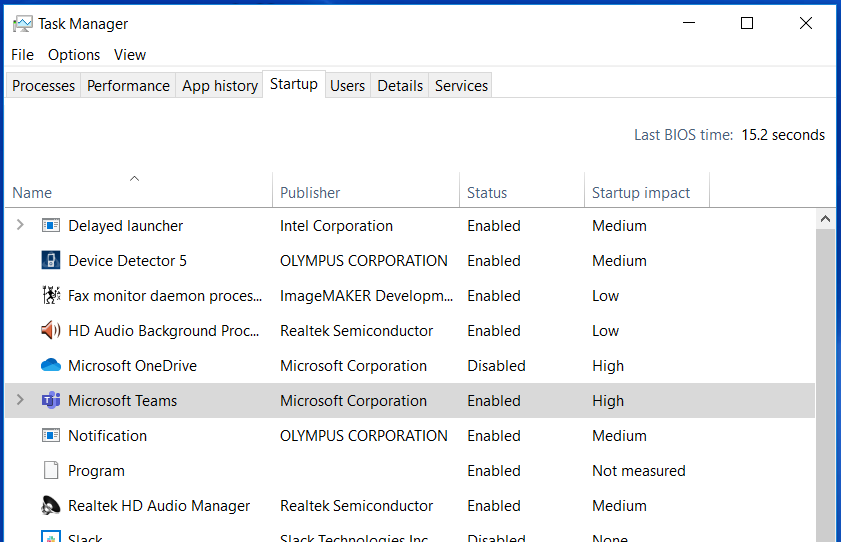 Note: If you make a mistake you can always click the button again to enable the program again.
Run Disk Cleanup
When you are done with clearing up the startup programs, you can try running disk cleanup next. Having a full hard drive could cause your computer to work harder to locate programs and files.  Let us clear out a little space so you can ease the burden on you computer and recover some disk space.
1. Click on the Start Menu, scroll down and select and click Windows Administrative Tools, then click on Disk Cleanup.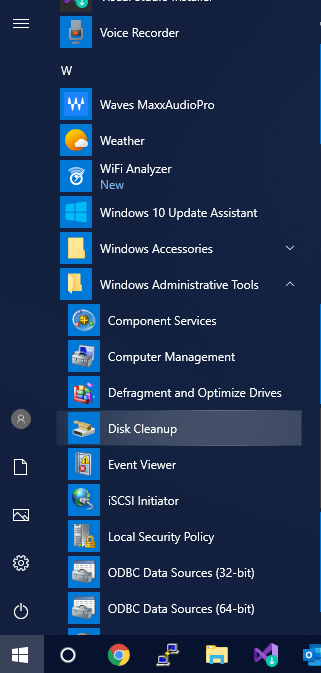 2. If you have more than one drive, you may be prompted to choose which one to cleanup. Choose the C: drive if prompted. You will then be prompted with a box where you can select what types of files you would like to delete. Click on all options except for Downloads, unless you are OK with Disk Cleanup deleting all files in your Downloads folder. Clicking on any of the options will also give you a brief description of the contents. When you are satisfied with your selections, you can click OK at the bottom of the Dialog Box and you will get a prompt that will ask if you are sure you want to delete the files. When you are ready you then click on Delete Files.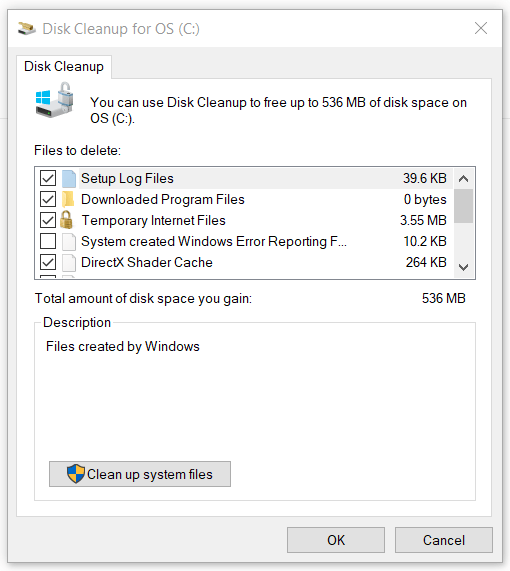 3. (Optional) If you would like to recover even more space, you can click on the Clean up system files button at the bottom of the Disk Cleanup box and you will get another box with more options including Windows Update Cleanup, Windows Upgrade Log Files, and more.
Remove Adware & Bloatware
Sometimes a PC is slowed because of unwanted software. When installing a program, a software vendor may sneak in bloatware or adware which can cause the computer to slow down or cause problems with the operating system. Malwarebytes can be a useful tool in finding and removing such software. It's free for personal use too! You can download Malwarebytes here.
1. Proceed to download and install Malwarebytes.
2. When prompted to Buy Now, Activate License, or Maybe Later, choose Maybe Later and then Get Started. If you want the premium version of Malwarebytes, you can choose to Buy Now if you prefer. The primary difference between the Premium and Non-Premium version is the Premium can run automatic updates, scans and removals for you. The free version requires you to start a scan manually. You will also be given a free 14-Day trial of the software if this is the first time you are installing it.
3. Click Scan on the Malwarebytes home screen.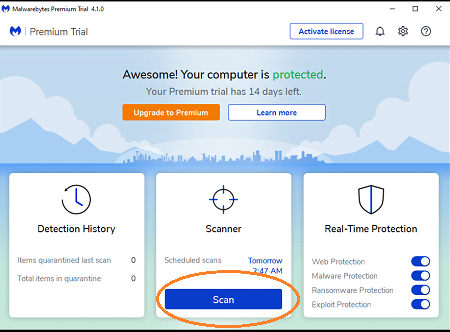 4. Depending on the speed of your PC, the scan can take anywhere from a few minutes to a few hours. Once the scan has completed, you will see the Threat Scan Results. Choose to Quarantine any items Malwarebytes finds. You me be prompted to restart your PC to finish the quarantine process.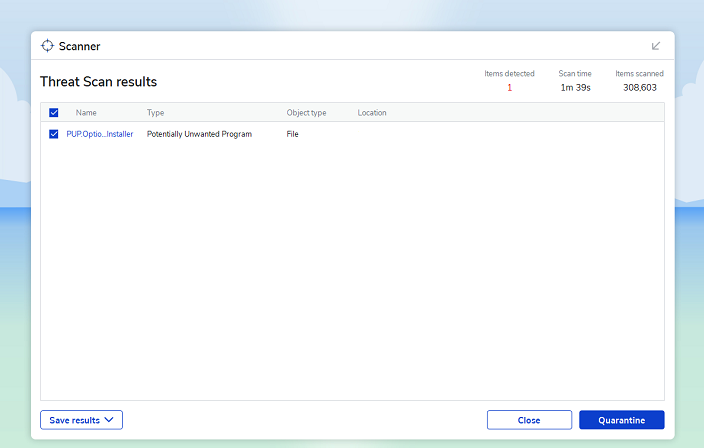 These four procedures discussed are fast and an easy way to speed up your computer. They are simple and safe enough for anyone to complete them without any major consequences. So, when you feel like your computer is slowing down, take a look at these four procedures to speed it up and get you going again! Feeling intimidated by these steps? We also perform computer repair in our office. Most repairs are completed within 1-3 days!
Scareware is a form of malware that generates browser pop-ups that resemble Windows or OS X system messages, claiming to be software such as antivirus, antispyware, registry cleaner, driver updater, etc. The system messages report fictitious problems such as infected files or missing driver updates intended to scare users into purchasing useless software or installing malicious software onto their devices.
An example of a fictitious alert in the form of a browser pop up recommending known software from an unknown source such as Adobe Flash Player from newsoftready.uploadsoftstohavetoday.online shown below: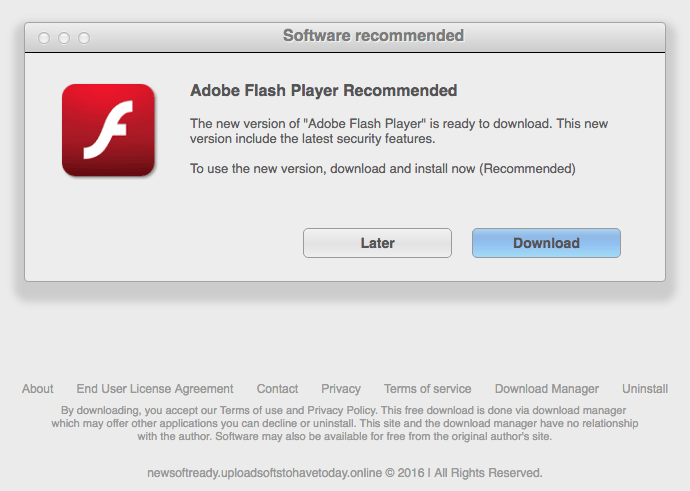 Scareware can also present itself as an intense series of browser pop ups and alarms that scare you into thinking your device is infected. The pop up or system alert may give you a number to call suggesting the alert is from the FBI or Microsoft. The intent is to get you to call and get your permission to login to your computer.
STOP RIGHT HERE! If you encounter a suspicious system alert or pop-up, close your browser by clicking CTRL+ALT+DELETE (Windows) or COMMAND+OPTION+ESC (Mac), then end the process, or turn OFF your device.
In the event that you have called the number from the scareware, your phone number may have been compromised. If you give the fake technical support permission to login to your device, your device and data have been compromised. After receiving access to your device, the agent is able to further install malicious software and viruses, change your system setting to prevent internet access, and steal your data or lock you out of your own system. The next step the fake technical support agent will take is to scare you into paying them to clean your computer or unlock your data.
If you have been victimized by scareware, your device and data may have been compromised. Please contact Pennyrile Technologies at 931.771.1149. If you have given any financial information, we recommend contacting your financial institution to alert them.
Why you should secure your wireless network
In today's connected world, it's important to make sure your home wireless network is secured from threats. An unsecured wireless network is an open invitation for anyone to access your network, computers, and personal information. Hackers and identity thieves are increasingly targeting unsecured networks to gain access to passwords, banking information, credit cards, and data. When you leave your home, do you leave the door unlocked? Probably not, and leaving your wireless network unsecured is no different.
How to secure your network
Before we start, there are a couple of things we need to do. Make sure your router is plugged in and powered on. We recommend connecting your desktop or laptop directly into the router while we make these changes. Connect an Ethernet cable from your computer to one of the Ethernet ports on the router. On most home routers there are 4 LAN ports available and labeled 1-4. Do not plug into the WAN port which should be labeled and color coded differently.

We will need to log onto the router to secure your wireless network. We need to know the IP address to do this though. By default, most routers have an IP address of 192.168.1.1. You can check the documentation for your router to be sure, or by opening a command prompt and checking your local gateway. For the latter, go to Start and type "cmd" and hit enter. The command prompt will open. Type in "ipconfig" and hit enter. You will see an IP address listed for the default gateway. This is your router's address.
Log in to your router. Open up your browser and type in the IP address of the router. You will then be prompted to enter the username and password. If you are unable to locate the documentation that came with the router, you can find the default username and password of your router here. Change the administrator username and password. Make sure to create a strong password to prevent unwanted access to the administrative settings.Change the SSID (Service Set Identifier) of the router. The SSID is the name you give your home network. Always change the default SSID! By default, wireless routers will broadcast your network name (SSID) and anyone with a wireless device can connect within seconds to an insecure network.Enable WPA2 wireless security. Of the wireless encryption methods available today, WPA2 provides the best method of data security. WPA2 uses an Advanced Encryption Standard (AES) security algorithm to secure wireless home networks. Every wireless device since 2006 has been required to support WPA2 to be considered Wi-Fi CERTIFIED™
WEP – Wired Equivalency Protocol is an early security standard for wireless devices that uses a static (fixed) key and encryption algorithm to secure data. WEP is no longer recommended for home network security due to weaknesses in the algorithm that can be cracked in under 3 minutes.
WPA – WiFi Protected Access is an improvement of WEP as a temporary solution to wireless security that uses Temporal Key Integrity Protocol (TKIP) that generates a new key for each packet of data transmitted.Create a strong security passphrase. Disable guest access if enabled by default.Save your settings. Wait until the router power cycles to disconnect your computer.You are now ready to connect your wireless devices. Locate your home network (SSID) on your wireless device and enter the passphrase you set earlier.